A Guide to Hanging Pictures on Your Wall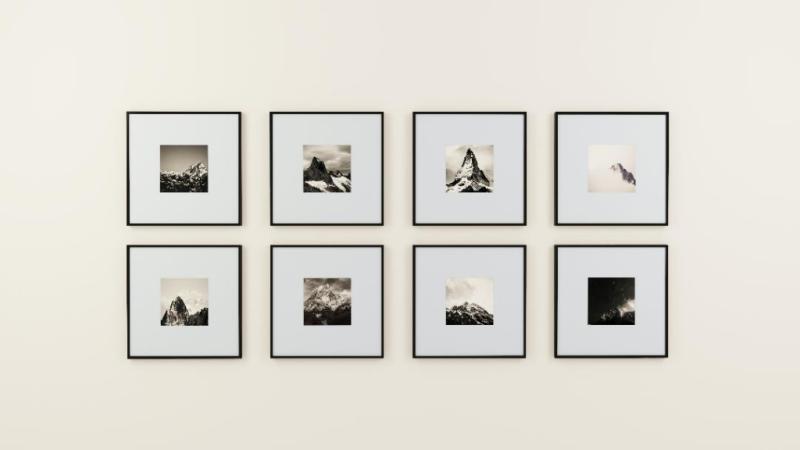 Decorating your walls with pictures is a great way to express yourself and put your own stamp on your home. But when it comes to hanging pictures on a wall, you need to know what you're doing to ensure the pictures will stay in place and deliver the overall look you're hoping for. After all, you don't want to put any holes in your walls that you don't need to and cost you to repair. This blog post will guide you through how to hang pictures on your wall.
Consider your wall surface
You can hang pictures on most types of walls, but you first need to consider the type of wall you have and the size, weight and shape of the picture you want to hang. This will help you determine which hanging hardware you need.
Brick: If you have brick walls, you'll need a wall anchor and a masonry bit on your drill to drill into the mortar, not the actual brick.
Plaster: Walls made of plaster are common in older properties and are prone to crumble. Use a detector to look for a wall stud that will provide you with the most secure anchor for the fixing. It's a good idea to pre-drill holes in plaster walls and use painter's tape to avoid crumbling.
Drywall: If your walls are drywall, the good news is that these are typically the easiest to hang pictures on. Again, ensure you find a wall stud to provide a strong anchor or use a drywall anchor if there's no solid stud.
Choose your picture-hanging hardware
Here are some things you may need to safely hang pictures on a wall, depending on the weight and size of the frames and the hanging method you choose.
Pencil and rubber
Spirit level
Tape measure
Painters tape
Hammer and drill
Picture hooks
Raw plugs and screws (if putting up heavy frames)
Picture hanging cord or wire
Picture rail and picture rail hooks
D rings
Where to hang your picture on the wall
Where you hang your pictures is ultimately down to personal preference and what else is on the wall, the position of furniture in the room and lighting. But a good rule of thumb is for the middle of the picture to be at eye level, around 57 to 60 inches high. If you're only hanging just one picture, the middle of the wall is the best place to put it. To ensure your picture is straight on the wall, ask someone to guide you as you hold the picture to the wall. Once it's in place, use a spirit level to double-check that it's straight.
How to hang pictures on the wall
Before you start drilling into the wall, you should use a wire cable detector to find out if there are any cables or pipes behind the wall where you want to hang your picture. Next, hold the picture frame to the wall and put a strip of painter's tape above it. With a pencil, make each end of the frame on the tape. You'll only need one central hanger if your picture frame is fairly small and light. Divide the width of the frame in two and measure the distance from the marks you made on the tape, ensuring it's central. For larger and heavier frames, mark for two hangers at an equal distance on either side of the central point and mark these on the tape. Measure the back of the frame, from the top to the point it will hang. Then, mark this on the wall, down from the bottom edge of the tape.
Now it's time to attach your chosen fixing to the wall:
Nail: One nail should be adequate if the picture frame has a sawtooth hanger or hook. Pushing the nail into a wall stud at an angle will provide maximum support, especially if your picture is over 2.5kg. Test it by pulling down on it before you hang your picture on it.
Wire: Hanging a picture frame with wire between two D-rings that are opposite to each other will provide greater stability. It's the same process as using nails to hang a picture, but you must do it twice.
Picture rail: The most common way to hang a picture from a picture rail is by using picture rail hooks. These provide a hook for a wire or cord to drop down and a frame to be attached. Attach D rings to the back of the frame about a third down on either side. Thread wire through the hooks, attach the hook to the picture rail and hang the picture from the hook.
You can confidently decorate your walls by following these tips for hanging pictures on a wall. Whether you're looking to put up one cherished piece of artwork or create a large photo gallery, putting up pictures is quick and easy, and the results will bring you joy for years to come.