What to think about before investing in outdoor décor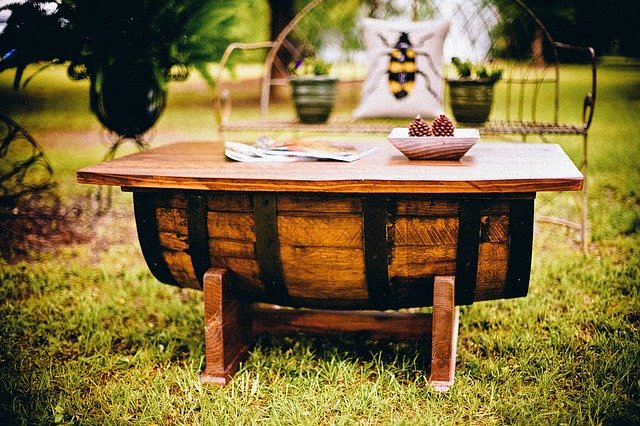 Who needs walls and a roof when you have the sky?
There's just something special about having a great living space outside. From the soothing sounds of birds chirping to the beaming warmth of the sun, designing the right outdoor area for family and friends is a significant, and essential investment. With winter on the horizon, now is the time to start blueprinting ideas for how you plan on spending more time outside when spring and summer come a beckon.
However, making the transition from designing an inside area to outside area is a trickier obstacle then what you first might have imagined. So, before settling on your outdoor escape, here are a few things every homeowner should consider first:
Quality Check
From runny paint finishes to decaying welds, a closer look at the furniture you choose to buy will reveal whether or not your "bargain" was nothing more than a cheap mistake. Don't confuse outdoor furnishing as inferior to your inside décor—instead, insist on good quality furniture that takes into account of your home's weather environment. A savvy purchase regards the amount of sun, rain, wind and temperature before settling on something "cute" but "inexpensive." Outdoor wicker furniture is a wonderful, and naturally looking place to begin adding personality to your home while lasting you a long time. However, opting to avoid proper upkeep, cleaning and shelter can quickly become costly--for any outdoor material.
Let's take a closer look at the popular materials used for outdoor décor:
Plastic, aluminum—Very good against the threat of rust due to moisture. Fairly inexpensive and easy movability in case of storage or relocating. Soap-friendly and low maintenance required.
Steel & wrought iron—Resilient in the face of severe weather and strong wind. Commonly rusts due to routine moisture exposure without regular upkeep and painting. Applying nitric acid and warm water for approximately 60 minutes helps to dramatically reduce the danger of rusted furniture.
Ratten, wicker and grass—When you think of natural materials, you probably don't think of long-lasting, durability. However, these furnishing materials, especially with the added touch of resin and oil, exuberate an organic and warm comfort that look amazing for just about any design. However, within a couple of years, and if regular upkeep isn't initiated—the look and feel of these chic materials will quickly turn into the opposite.
Wood—Sturdy and sexy. Wood makes for a fantastic opportunity for guest- entertaining connoisseurs to show off their décor expertise. It can also look as good as it feels as well as wood is comfortable for just about any outdoor décor option available. However, wood requires regular upkeep with preservatives and may require UV protection. Cedar, cypress, redwood and teak are fantastic wood weather-resilient materials to ponder over during your shopping experience.
Weatherproofing
On the surface, it may seem an obvious alternative, but in reality, it's anything but the sort. Homeowners will often times overlook weatherproofed furniture as it suffers from a tacky and boring negative stigma. But in truth, with a little customer shopping due-diligence, you will find countless options for weatherproofing your outdoor living area with style and comfort. Although some of the viable options require a little more consideration—it's well worth it in the end.
Image: https://pixabay.com/en/table-rustic-wooden-wood-garden-349679/
---
More to Read: